Runebound 3rd Edition
7.8 / 10
7.5 / 10
Companion App
Suggested Ambient Audio


---
Collection
Runebound 3rd Edition
Caught in a Web (Scenario Pack)
Fall of the Dark Star (Scenario Pack)
The Gilded Blade (Adventure Pack)
The Mountains Rise (Adventure Pack)
Unbreakable Bonds Expansion
---
Apps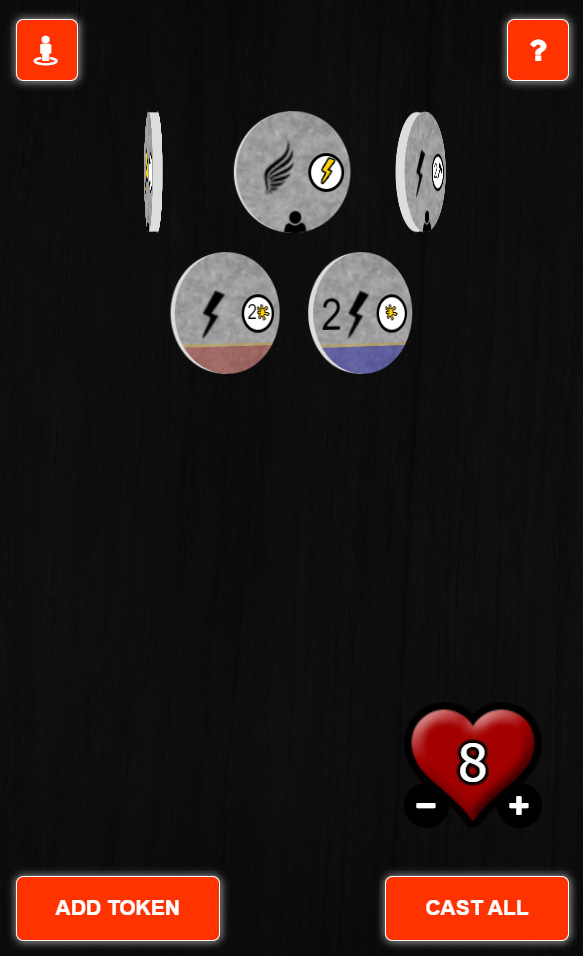 For Runebound 3rd Edition many players do not like using the tokens that come with the game for combat. We don't mind the tokens themselves, but wanted a more random result for casting tokens. Thus, we created the Kelsam Runebound 3rd Edition Token Caster companion app. Using this app you can manage and use your hero's base tokens, tokens you get from cards, and even enemy tokens. If desired, you can also use the app to track your health, as well as enemy health by using the "-" and "+" buttons near the heart in the bottom right. Check out the in-app help section, by clicking the "?" button in the top right corner, for detailed instructions on its use.

Runebound 3rd Edition Token Caster
---
Player Aids
For Runebound 3E we use sets of custom etched movement dice as well as our Kelsam Dice Towers. Custom etched dice can be purchased here from our friend, BoardGameGeek user "Orph". These dice utilize the Runebound 2nd Edition symbols. Check out the Runebound 2nd Edition Rules for a reference of how to read these.
---
Insert
Common Insert Design Goals
For each insert we create, we have a few "common design goals". They are:
Reduce setup time as much as possible
Have separate component trays for "setup components" and "gameplay components"
Allow for vertical box storage without components crushing each other
Fit sleeved cards
Runebound 3rd Edition Insert Details
For this insert we decided to make custom boxes for each scenario. For the scenario pack expansions, this was quite easy, as they are mostly just newly printed scans of the tuck boxes they came in. For the 2 that came with the base game, we just did a little photoshopping to get their names and artwork on similar labels. Using this method, to play a game of Runebound 3rd, we just need the base game box and 1 scenario box. We are not certain if this will need to change when the new expansion is released later this year (last updated May 22nd, 2017).
We wanted to have a couple separate gameplay trays for this game, namely the adventure decks and main tokens trays. For the setup trays we decided to make expandable trays for asset decks, skill decks, and combat tokens. We knew this game would have more expansions in the future and we wanted this insert to allow for addtional compontents of these kinds.
FRENCH Scenario Labels
Thanks to our fan, David Violeau! :)
ITALIAN Scenario Labels
Thanks to our fan, Alessandro Crespi! :)
Download Insert Schematics
---
Related Blog Posts
New Runebound 3rd Edition Scenario Boxes
Aug. 15, 2017
---
Updates
Token Caster Support for Unbreakable Bonds
Aug. 13, 2017
---
Updates
The Geek Weekly Mention #2
Sept. 15, 2016
---
Press
---
Resources
Suggested Ambient Audio


Runebound Learn to Play

Runebound Rules Reference

Caught in a Web Rules

Fall of the Dark Star Rules

The Gilded Blade Rules

The Mountains Rise Rules

Unbreakable Bonds Rules

FAQ
---