Runebound 2nd Edition
9.5 / 10
6.9 / 10
Companion App
Suggested Ambient Audio


---
Collection
Runebound 2nd Edition
The Island of Dread
Midnight
Sands of Al-Kalim
The Frozen Wastes
Mists of Zanaga
Relics of Legend (Item & Ally Expansion)
Artifacts & Allies (Item & Ally Expansion)
Champions of Kellos (Item & Ally Expansion)
Walkers of the Wild (Item & Ally Expansion)
Rituals & Runes (Item & Ally Expansion)
Weapons of Legend (Item & Ally Expansion)
The Dark Forest (Challenge Card Expansion)
The Terrors of the Tomb (Challenge Card Expansion)
Drakes & Dragonspawn (Challenge Card Expansion)
Shadows of Margath (Challenge Card Expansion)
Beasts & Bandits (Challenge Card Expansion)
Traps & Terrors (Challenge Card Expansion)
Crown of the Elder Kings (Adventure Variant)
Scepter of Kyros (Adventure Variant)
Avatars of Kelnov (Adventure Variant)
Cult of the Rune (Adventure Variant)
The Cataclysm (Adventure Variant)
The Seven Scions (Adventure Variant)
Battlemage (Character Deck)
Blade Dancer (Character Deck)
Runemaster (Character Deck)
Shadow Walker (Character Deck)
Spiritbound (Character Deck)
Wildlander (Character Deck)
---
Variants
Kelsam Runebound 2nd Edition Rule Variants
These rule variants are designed to streamline gameplay and make it much, much faster. To that end, players can level up much faster, aquire items faster, and not have dying be such a set-back.

Kelsam Runebound 2E Variants
This PDF is 300 DPI (suitable for printing)
Kelsam Runebound 2nd Edition Market Variant
We feel that visiting the market in Runebound 2nd, un-changed, is a bit of a waste of time. You rarely find anything useful for your specific needs and more often than not have to spend too many turns searching the market stack in a town. This is our approach to a wildly improved marketing mechanic. Instead of a single market stack, you have 6. Each stack has specific types of items and when you visit the market you have a level of control of what types of items you will find. We have also gone through the market deck, with all of the expansions, and removed any cards that we didn't feel were valuable enough to stay. Thus, helping to ensure that visits to the market are beneficial.

Kelsam Runebound 2E Market Variant
This PDF is 300 DPI (suitable for printing)
Kelsam Runebound 2nd Edition Market Variant Board
Provided in the variant's PDF are 2 pages so you can cut out a simple board for your market. However, if you'd like something a bit more substantial, you can have an actual board printed with this PDF, as seen here. Note: do not actually play with your market stacks faceup, this is just to show the different stack types.

Kelsam Runebound 2E Large Square Market Board
This file can be used to order this market board from TheGameCrafter.
---
Apps
To be used with our market variant, we made this tool to ease the game's setup, since randomizing the markets at the start of the game becomes a bit more tedious with the new rules.
Kelsam Runebound 2E Setup App
We also made a simple piece of web-software to allow players to create custom hero cards. Watch your own custom hero cards form as you type!
Kelsam Runebound 2E Custom Hero Cards
---
Player Aids
We have a couple player aids that we use with Runebound 2E. Firstly, we made an expansions icon reference sheet so we could easily see what content belongs to what expansion. Next, we have custom laser-etched movement dice and our Kelsam dice towers. Custom etched movement dice can be purchased here from our friend, BoardGameGeek user "Orph".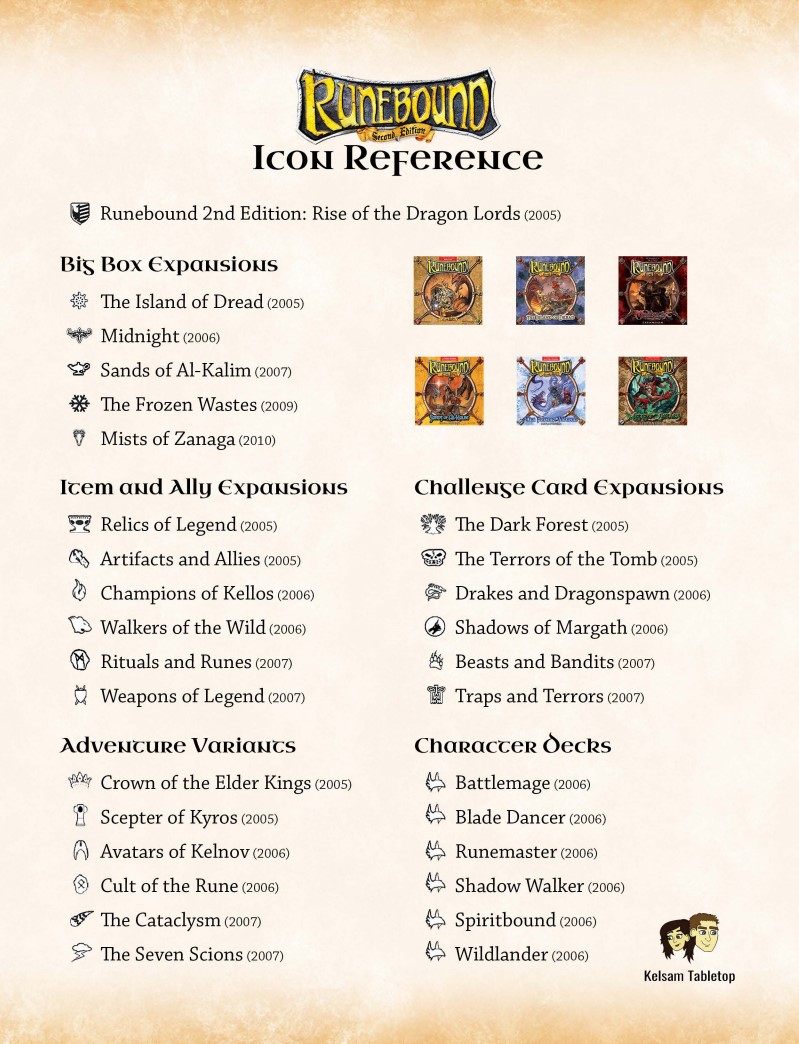 Kelsam Runebound 2E Icon Reference
This PDF is 300 DPI (suitable for printing)
---
Insert
Common Insert Design Goals
For each insert we create, we have a few "common design goals". They are:
Reduce setup time as much as possible
Have separate component trays for "setup components" and "gameplay components"
Allow for vertical box storage without components crushing each other
Fit sleeved cards
Runebound 2nd Edition Insert Details
For this one, we had a couple extra design goals in mind. First, we wanted to be able to have each game pull a maximum of 2 boxes. What this means is that for a game of basic Runebound 2nd Edition, all we need is the base game's box. For an expansion game we'd only need the base game's box as well as that specific expansion's box. It was a bit challenging to fit all the base game compontents as well as our custom compontents into the base game's box, since it would need to house the entire market (with all market expansions), as well as the entire base adventure (with all base adventure expansions).
This insert design doesn't actually house all the market cards. We have culled our market a great deal, primarily due to our variants. We have found that we like to keep it thinned to having just the cards we find useful. This includes most of the highest level cards, as well as some mid-ranged cards. We've found that with our market and leveling variants, there is no need for the lower level cards. The un-used market cards, as well as a few PvP base adventure cards, can be seen in acrylic deck boxes in The Island of Dread and Midnight expansion boxes.
We have made custom deck boxes for each Adventure Variant Expansion and for the Character Decks. For each Adventure Variant Expansion we also designed and created an accordion, card-sized rulebook.
Download Insert Schematics
---
Related Blog Posts
Game Insert Updates
April 23, 2017
---
General
---
Resources
Suggested Ambient Audio


Suggested Ambient Audio - Island of Dread

Suggested Ambient Audio - Midnight

Suggested Ambient Audio - Sands of Al-Kalim

Suggested Ambient Audio - The Frozen Wastes

Suggested Ambient Audio - Mists of Zanaga

Runebound 2E Rulebook

Island of Dread Rulebook

Sand of Al-Kalim Rulebook

Midnight Rulebook

The Frozen Wastes Rulebook

Mists of Zanaga Rulebook

1st Wave Mini Expansions Rules

2nd Wave Mini Expansions Rules

3rd Wave Mini Expansions Rules

FAQ

Character Decks Cards Reference

Character Deck Rules
---